Proposed Trials / Certifications / Curriculum
Portland Metro Creative Aging and Cognitive Arts Center 12-Step Program to Enhance Stability and Neuroplasticity in mild cognitive impairment (MCI) and early-to-mid-stage Alzheimer's Disease (AD) clients
curriculum | proposed clinical trials | cognition | neuroplasticity | quality of life | dementia |
Fair Use Notice: Because of the nonprofit, educational, research and teaching character of this website, it contains some copyrighted graphics and material the use of which has not always been specifically authorized by the copyright holder. As a nonprofit corporation, we are making the information available in our efforts to educate the public. We believe this constitutes a 'fair use' of any such copyrighted graphics or material as provided for in Section 107 of U.S. Copyright Law. In accordance with Title 17 U.S.C. Section 107, this website is distributed and available without profit to those who have expressed an interest in reviewing the enclosed information for scientific research or educational purposes. If you wish to use copyrighted material from this website for purposes of your own, that go beyond 'fair use', in all cases you must contact the copyright owner for permission.
LEGAL DISCLAIMER: Clinical trials for some of the steps are planned; clinical trials for other steps of the 12-steps in our program have been individually and successfully clinically tested by other businesses and research facilities than ours before we adopted their methodologies and techniques into our 12-step program; other steps of our 12-step program are widely established and/or based on traditional art therapy, music therapy, aromatherapy, movement therapy and/or other therapies and psychic and traditional religion spiritual practices and traditions currently practiced, taught and in use in Western and Eastern religious practices of our major religions, for example praying and prayer healing; this is the first time all these therapies have been choreographed together in one cognitive performance enhancement process -- which we have coined with the name of 'cognitive arts' and or 'cognitive arts intervention', a new field classically based on John Gardner's work on multiple intelligences located in different cognitive brain sectors and John Dewey's work on cognitive transformation and integration of the individual into democracy thru the practice of art ...to which we are planning to conduct a unique psychic therapy battery of trials and a unique spiritual therapy battery of our trials that is unique to our 12-step cognitive arts program and remains to be clinically tested and verified in unique clinical trials that have not yet begun. The term we have come up with to name our process, is 'cognitive arts' and/or 'cognitive arts intervention', terms never before used.
This is the first time so many innovative cognitive therapies for seniors are being clinically gathered together and tested in one vital senior cognitive therapeutics program -- in response to the pandemic of MCI/AD and associated diseases and dysfunctions ...including the first ever senior cognitive 12-step program: available in two forms: an expensive methodology administered by professionals; and a financially free methodology adopted as other public 12 Step programs at no cost.
We are the only institution offering our unique blend of certifications combined into one most encompassing certification of knowledge and ability ...as well as clinically testing each certification and updating them annually with the new techniques and clinical trials:
Cognitive Arts Therapy

Aging & Disability Therapy

Aging Thru Art

Certified Nursing Assistant (CNA)

Senior Special Education Therapy

Public Access Young Again 12-Step Program

Art Therapy

Gerontology Therapy

Motor Skills Therapy

Music, Hearing & Dance Therapy

Nutrition, Taste & Aroma Therapy

Creative Aging Therapy

Expressive Arts Therapy
Disorder Foci subjects are clinically tested for cognitive improvement (in the programs listed above), across the foci listed below:
Depression

Attention Deficit Hyperactivity Disorder (ADHD)

Oppositional Defiant Disorder

Dyslexia

Aphasia

Anxiety Disorder

Post Traumatic Stress Disorder (PTSD)
In the following test groups:
Normal, healthy seniors (test group)

Seniors who are depressed or clinically depressed, &/or with other psychological disorders

Mild Cognitive Impairment (MCI)

Early-to-midstage Alzheimer's Disease
...additional clinical research tests across each program (above), group (above), and disorder focus (above) to include individual diseases (dysfunction*), below:
Parkinson's Disease

Stroke (motor function)

Hearing Loss

Stroke (sensory function)

Alzheimer's Disease

Multiple Sclerosis (memory function)

Expressive Aphasia
(* Listing order corresponds to brain cognitive functioning Brodman area)
...subcategories of clinical research added and individualized to all of the above programs, disorder foci, test group and dysfunctions ...are clinically investigated in the following dementia subtypes:
Mild Cognitive Impairment (MCI)

Alzheimer's Disease (AD)

Vascular Dementia (VaD)


Dementia with Lewy Bodies

Frontotemporal Dementia

Cortical Dementia

Progressive Dementia

Primary Dementia

Secondary Dementia
And, as to the preceding clinical research, there is subcategorization in testing of different cognitive brain centers where we seek to improve cognition.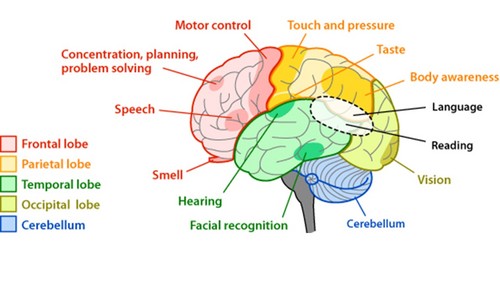 A powerpoint presentation follows:
l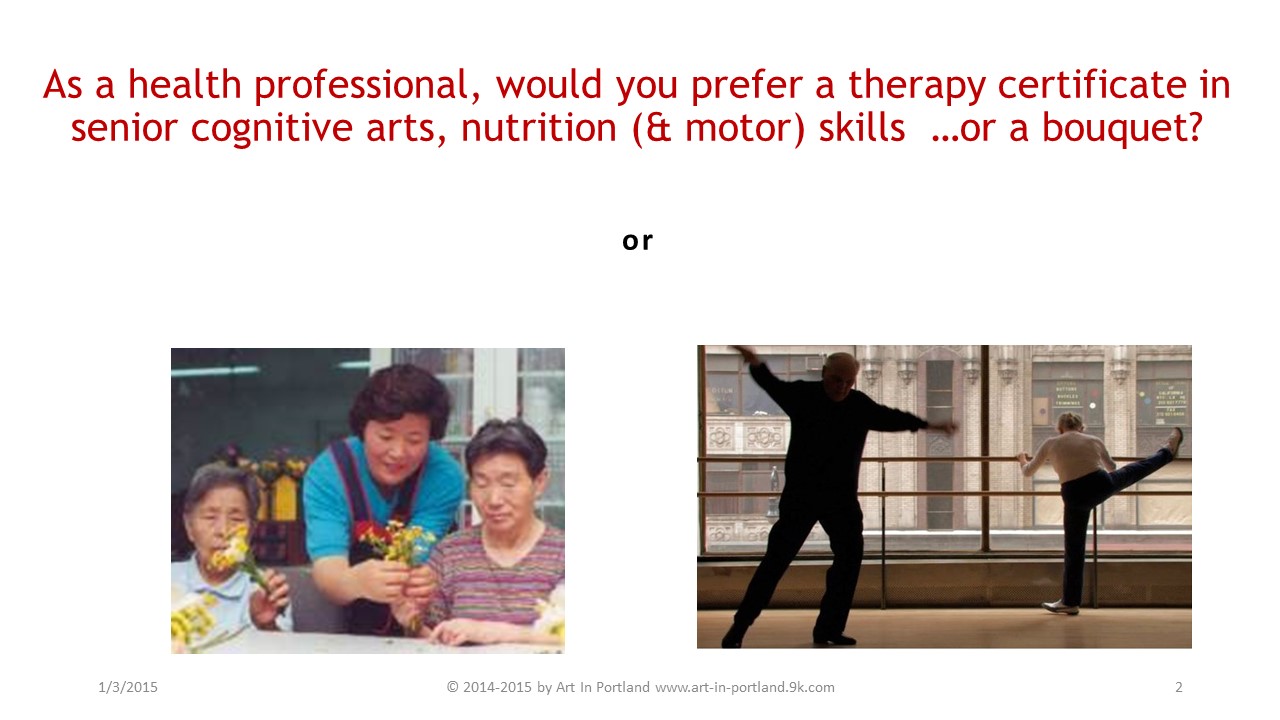 l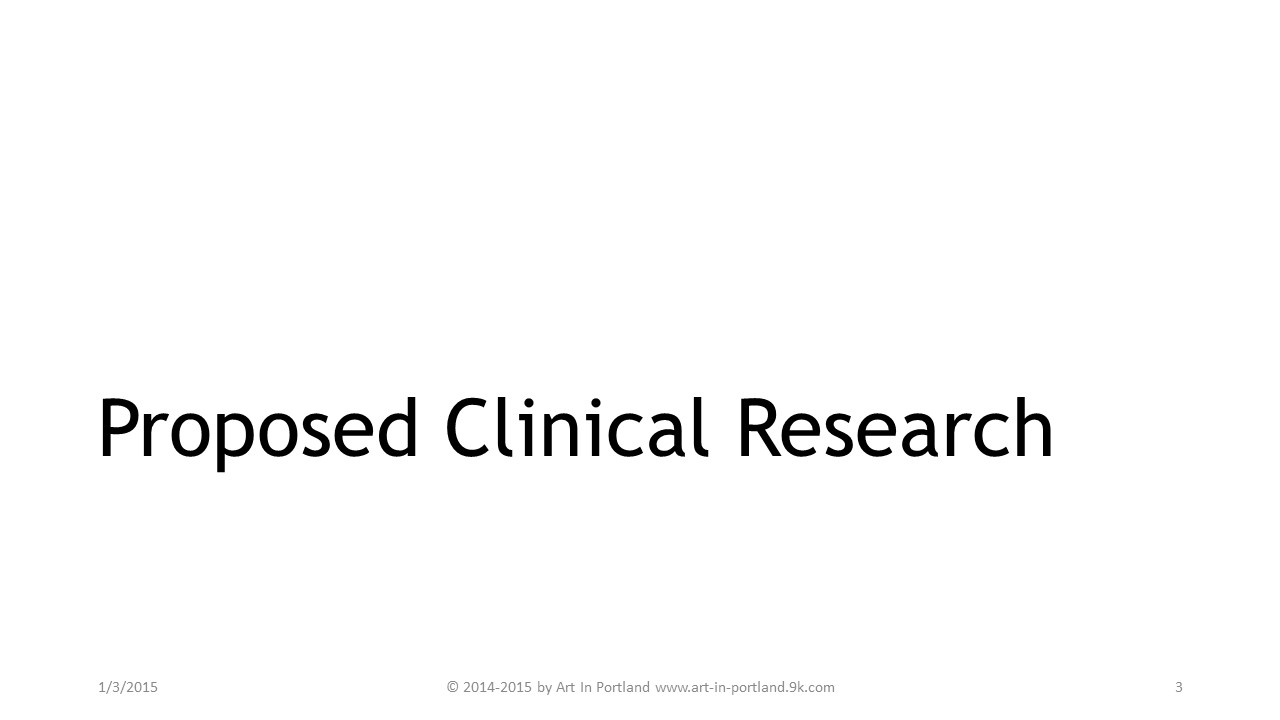 l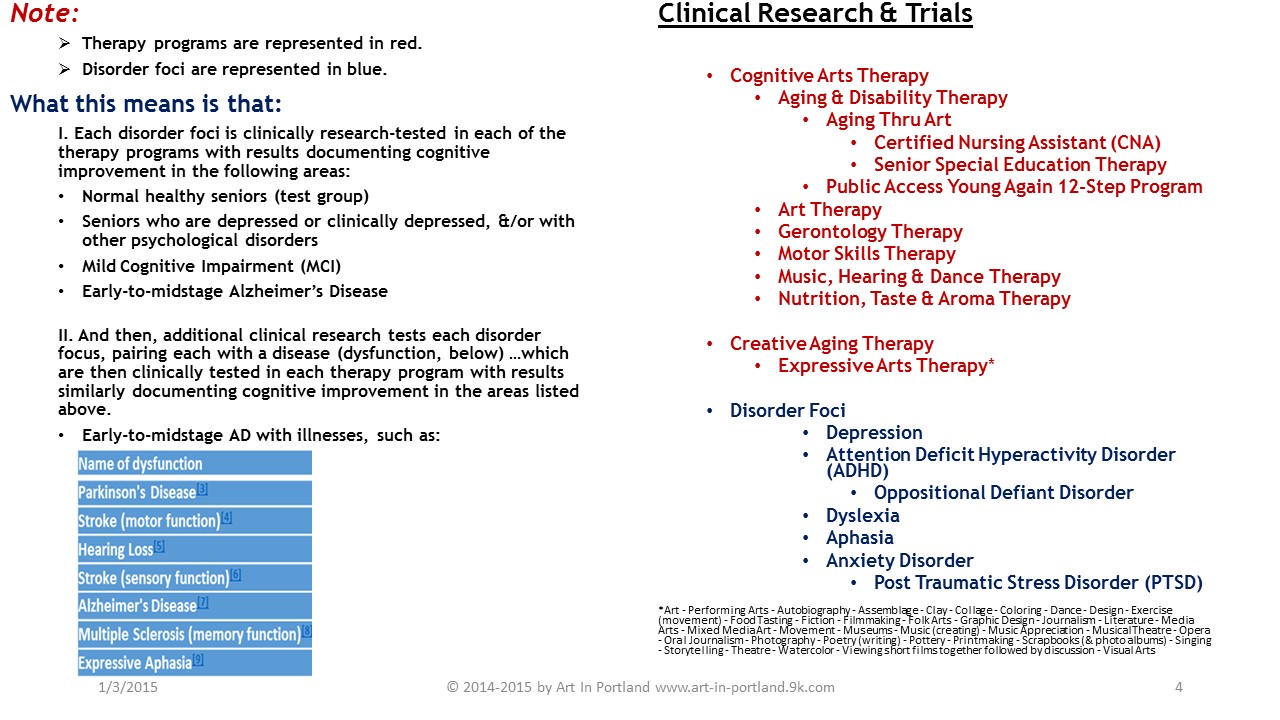 l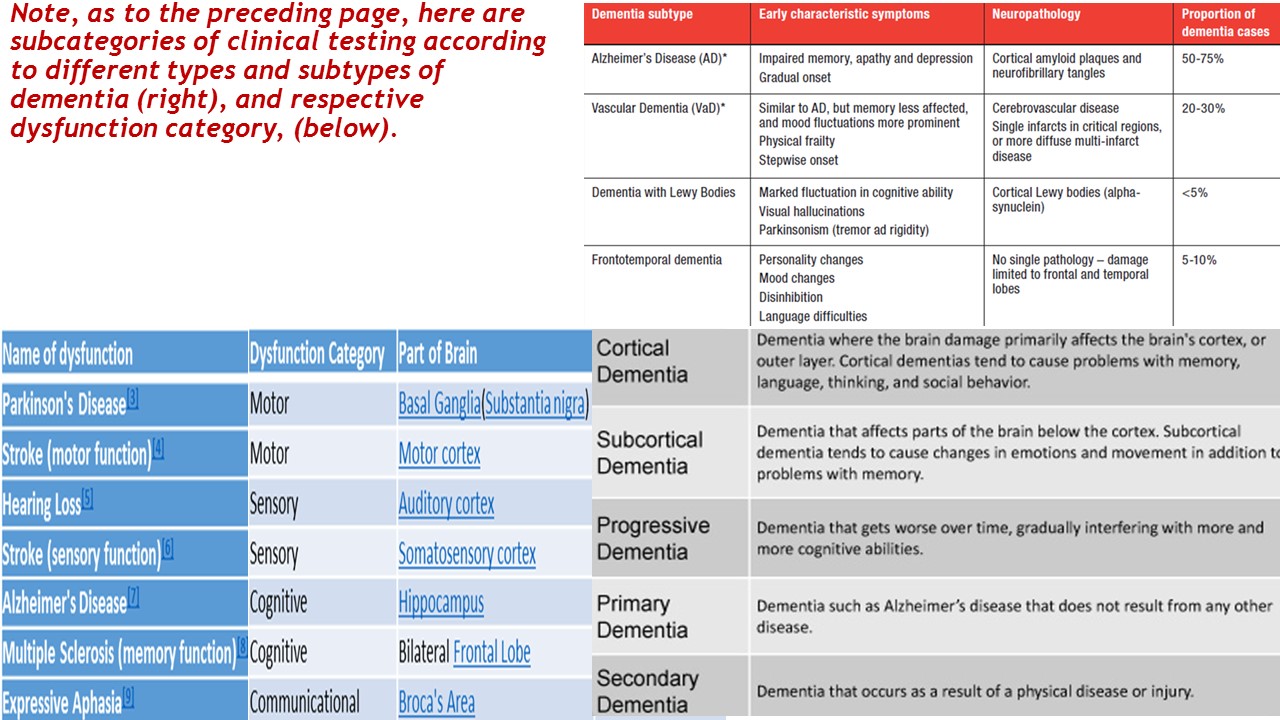 l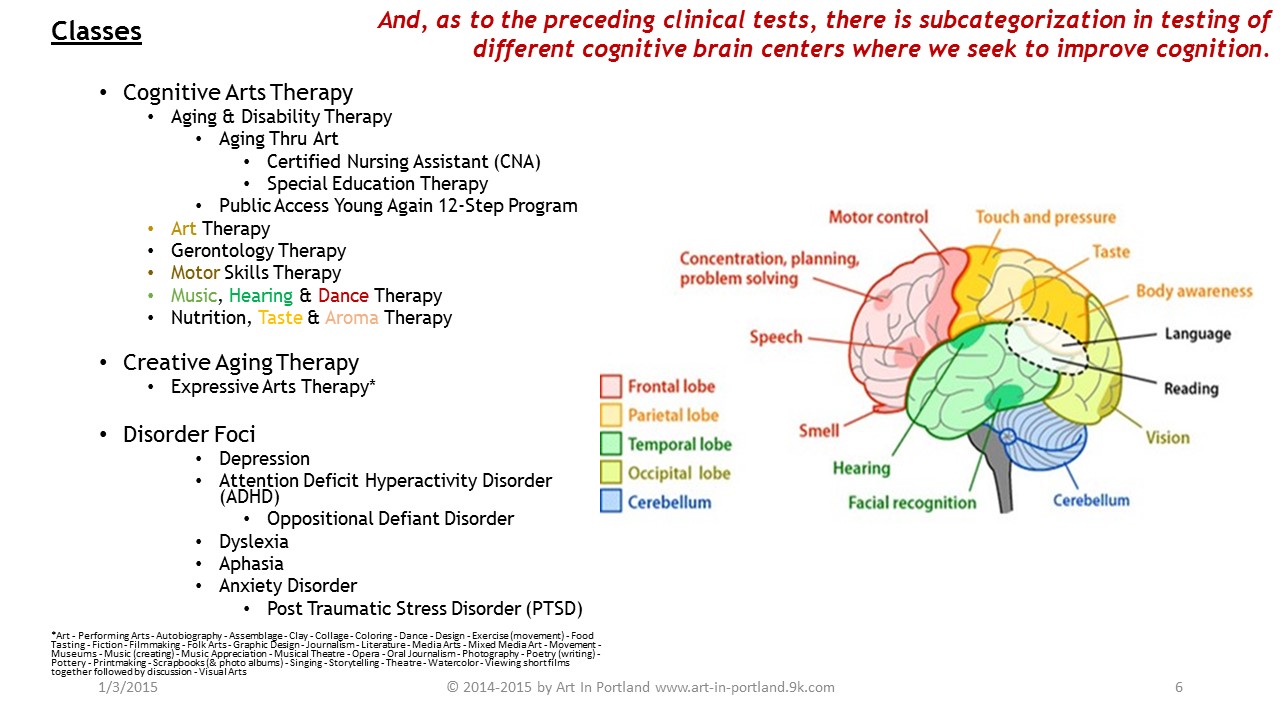 l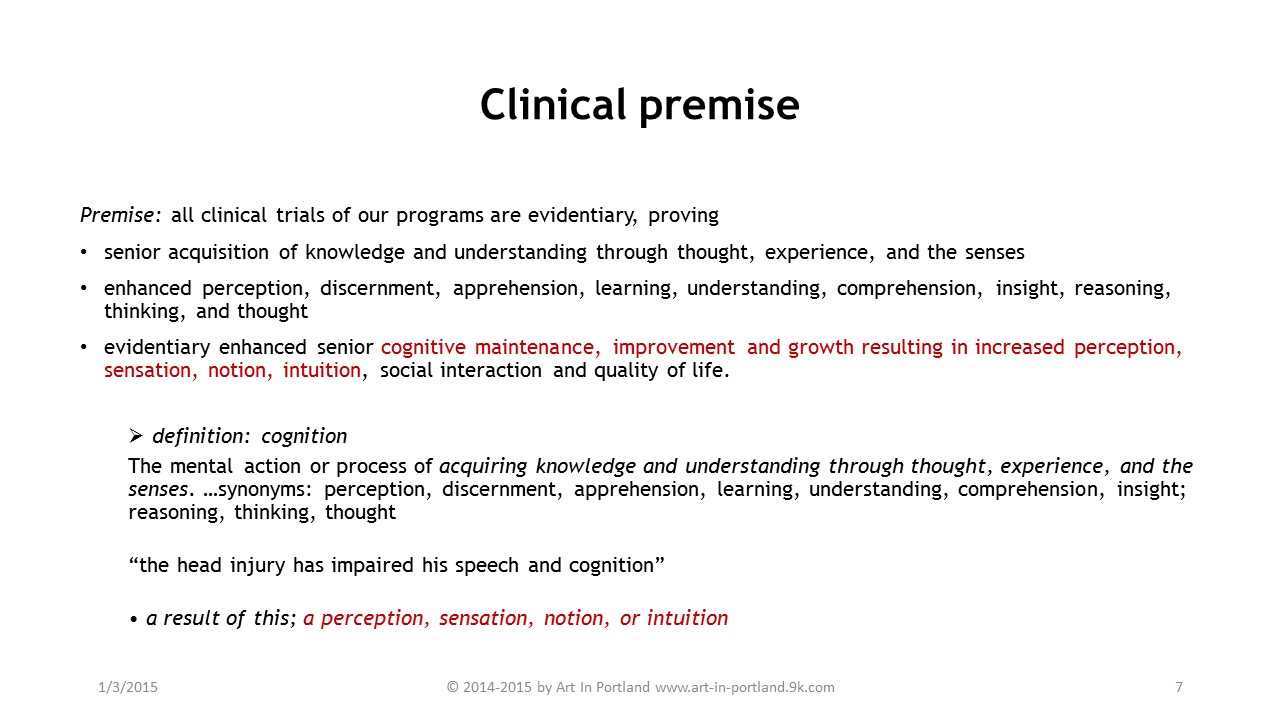 l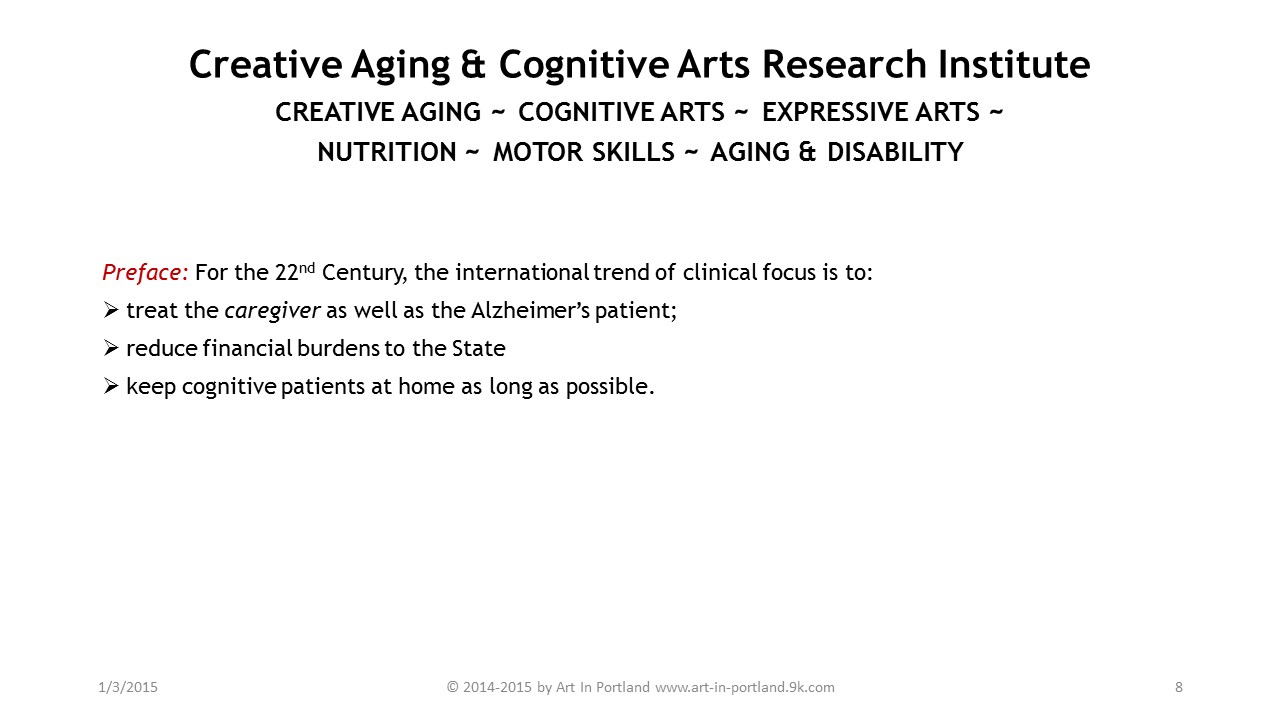 l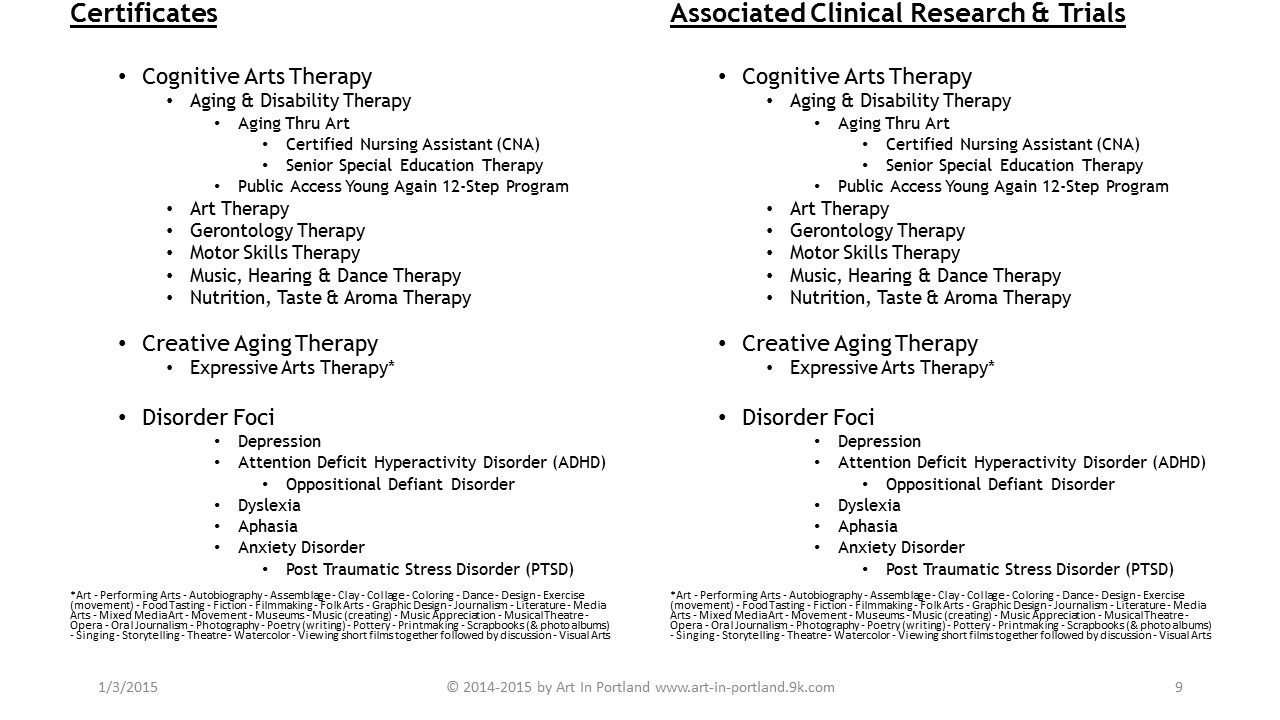 l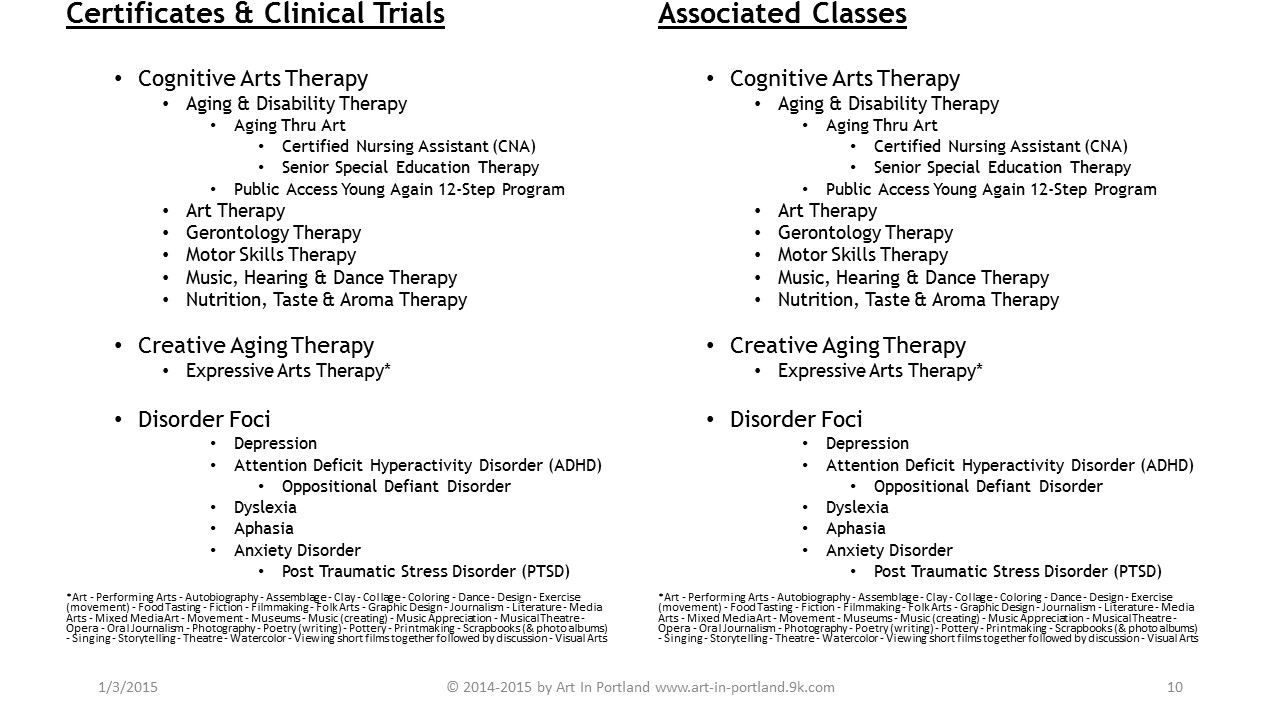 l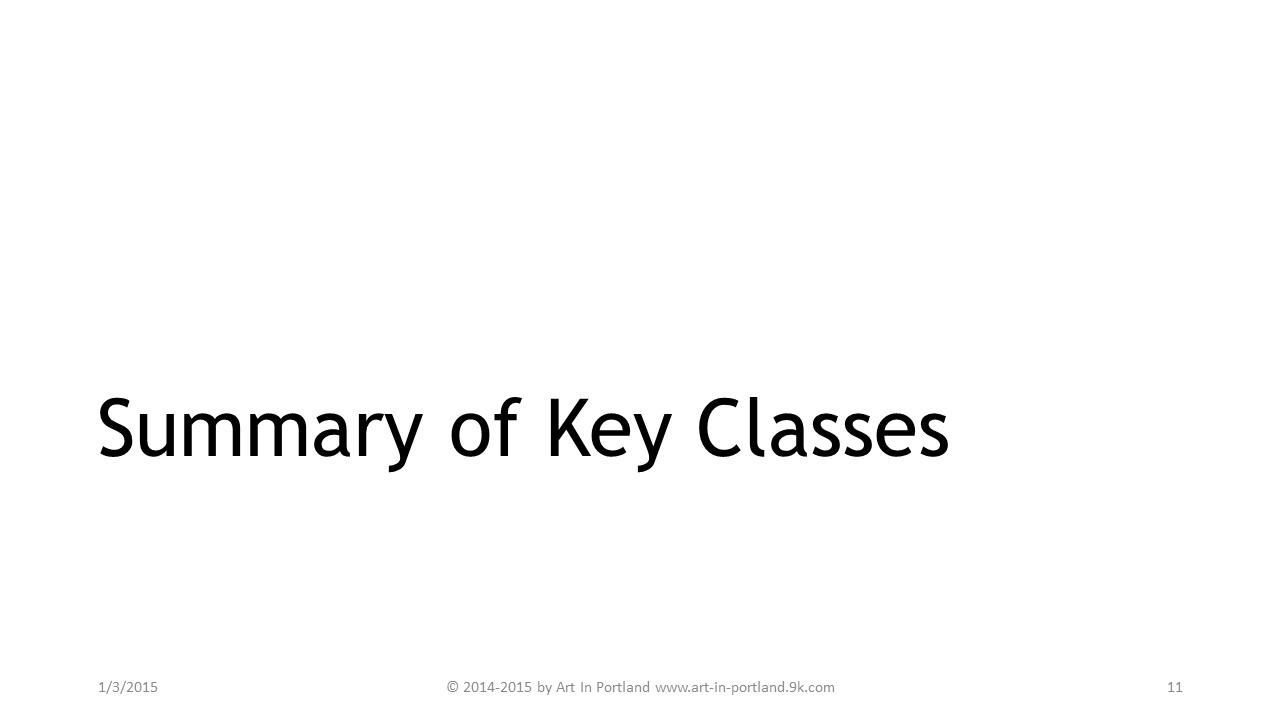 l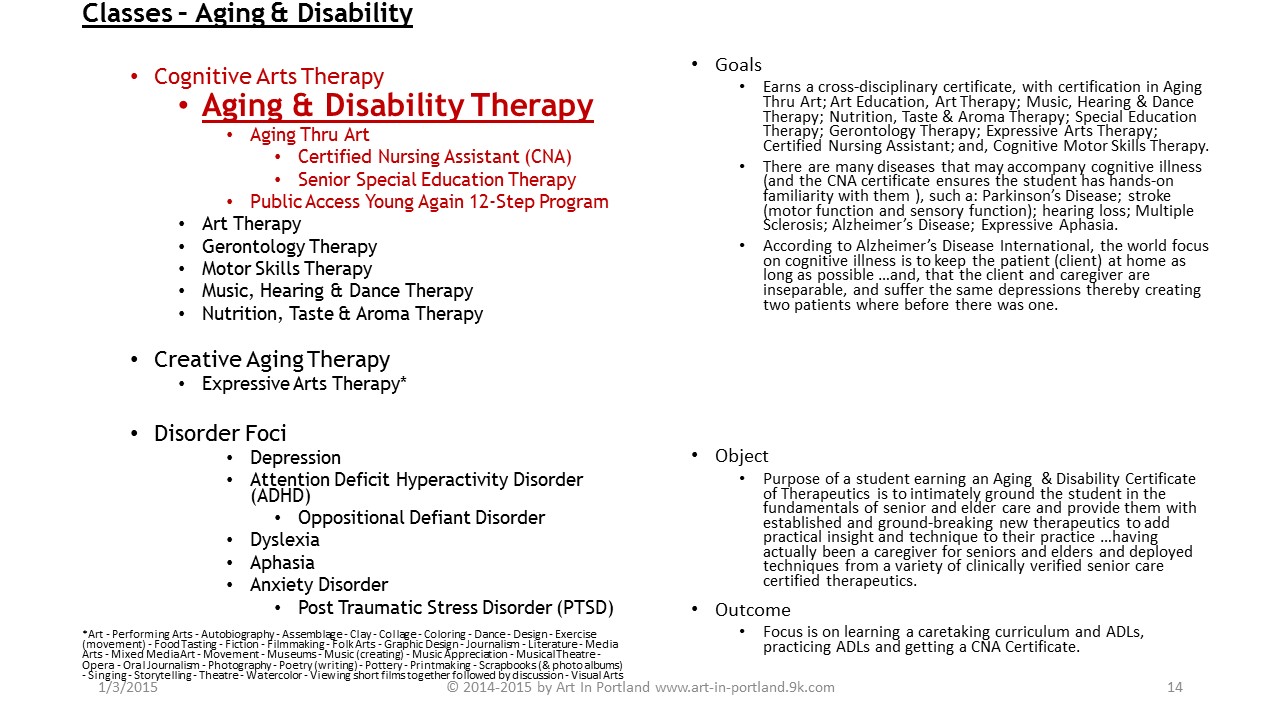 l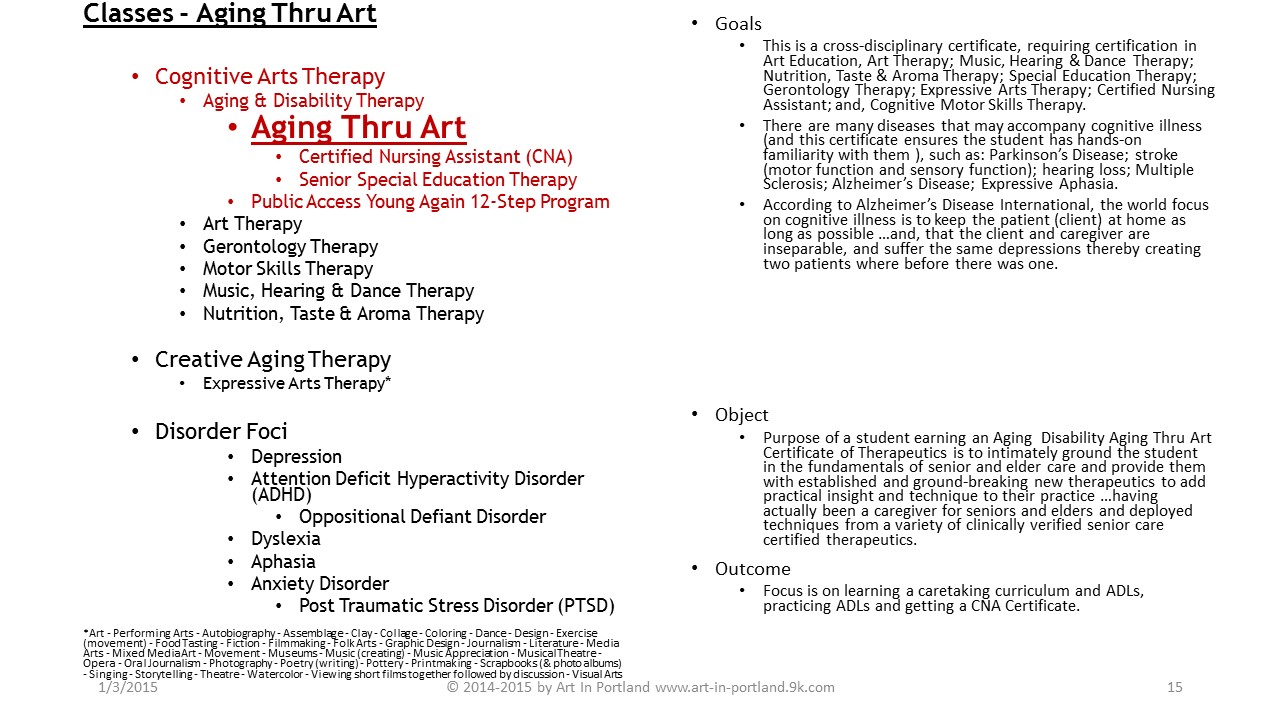 l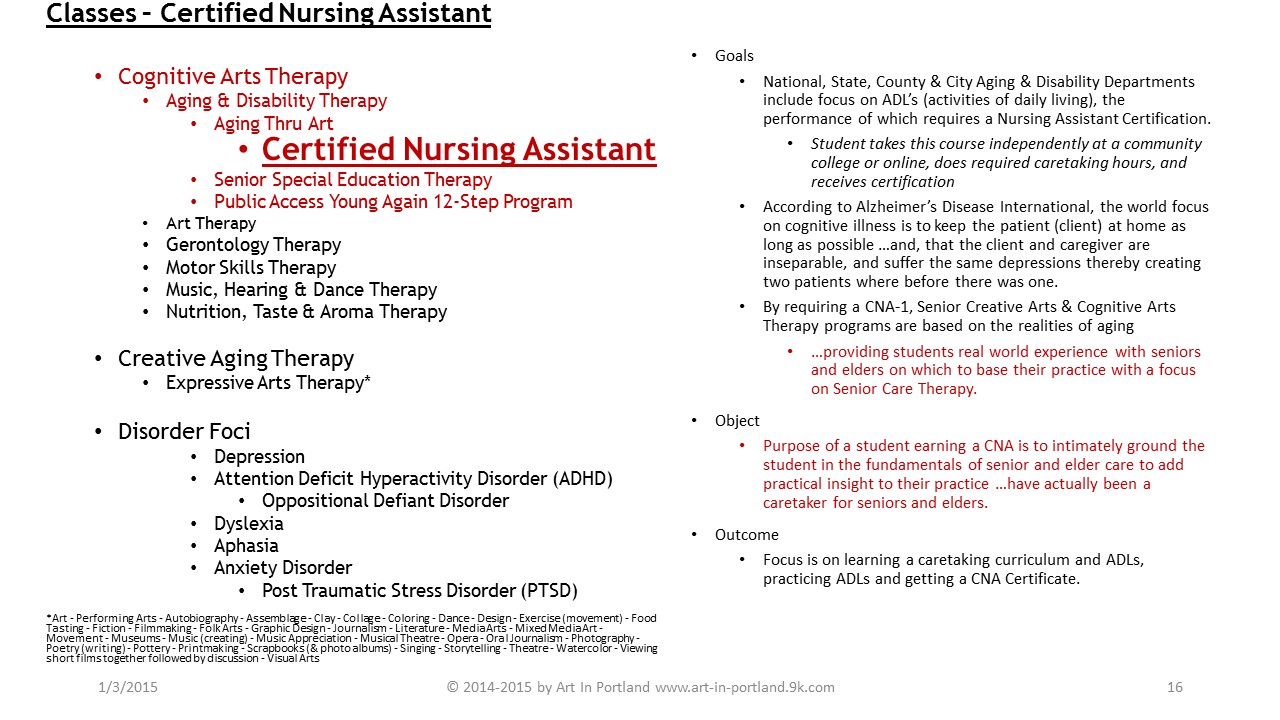 l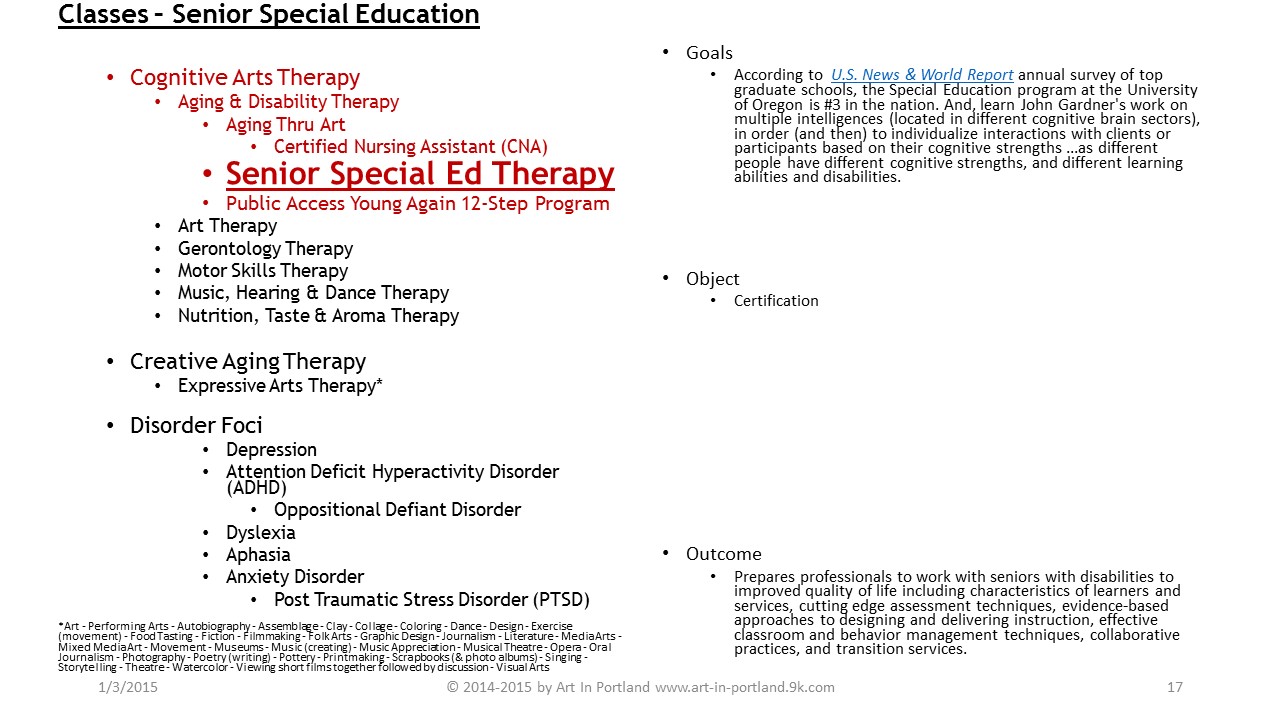 l
l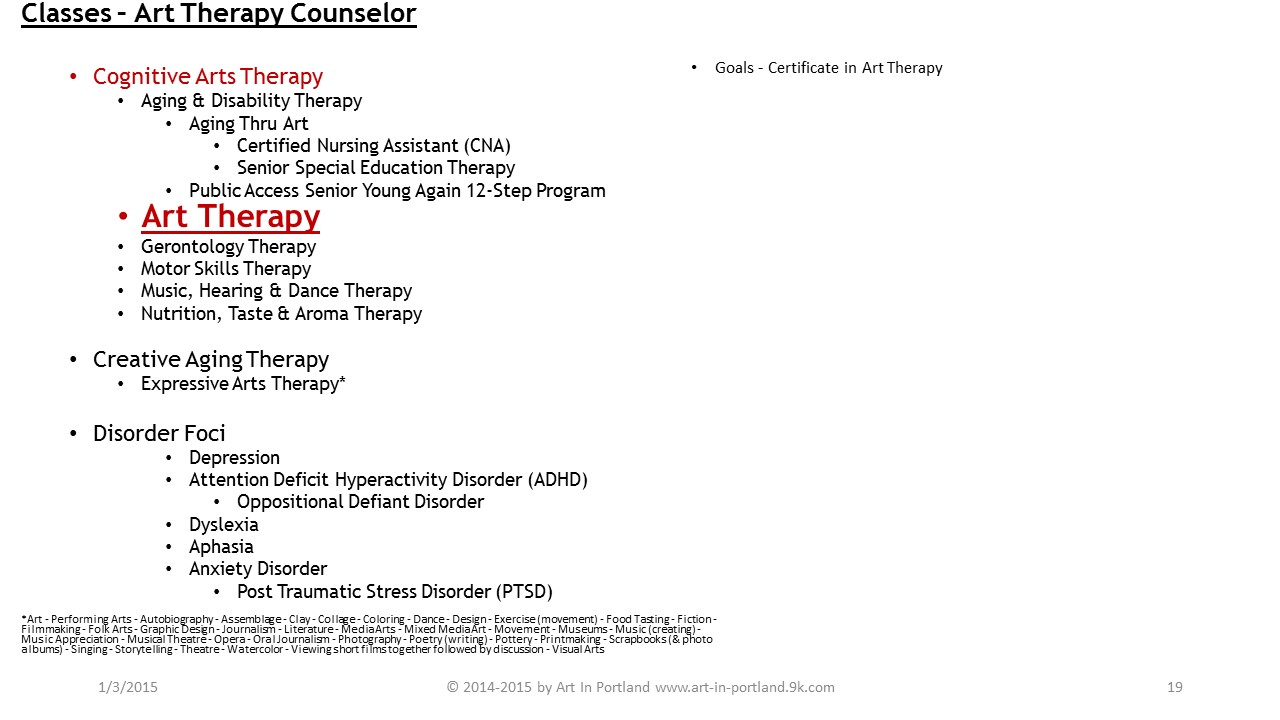 l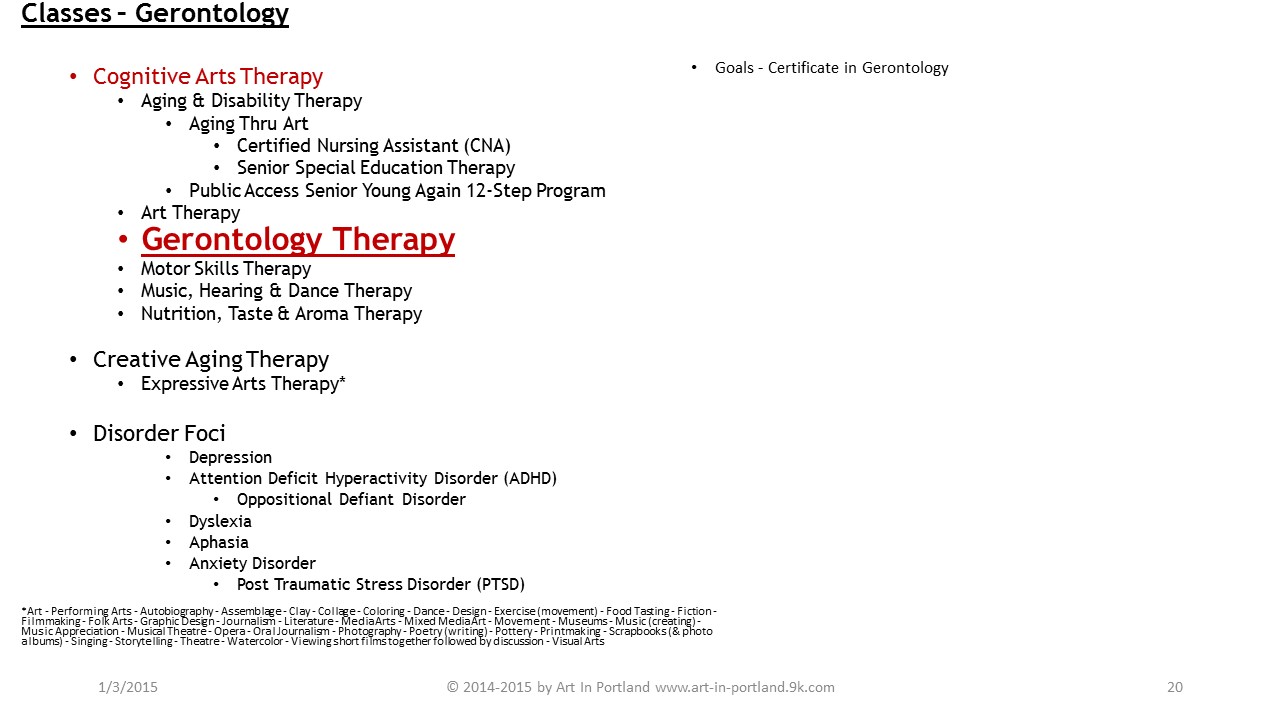 l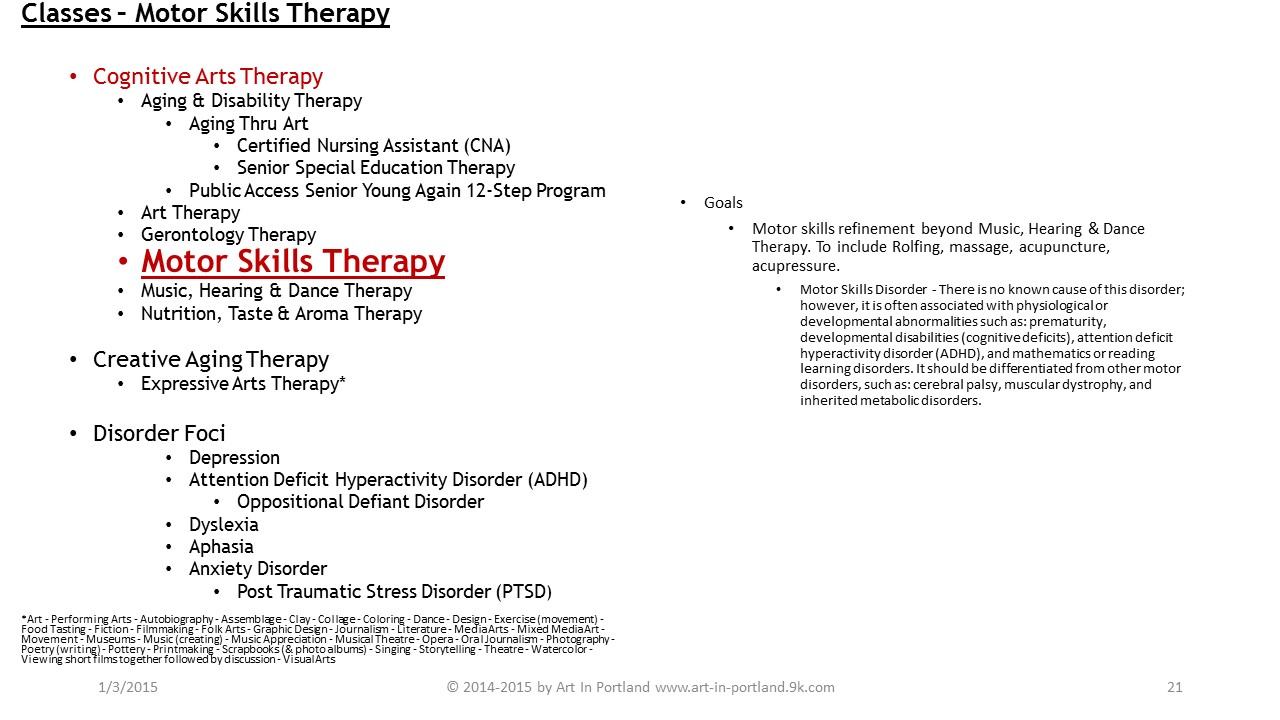 l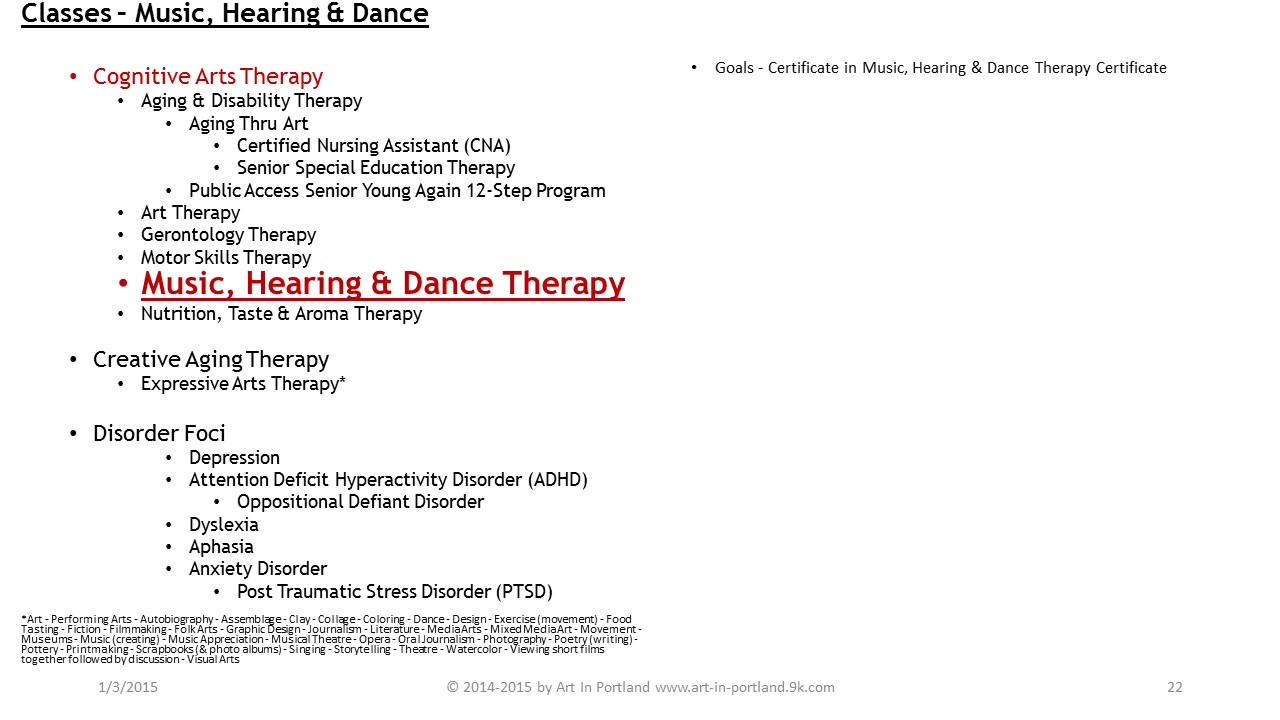 l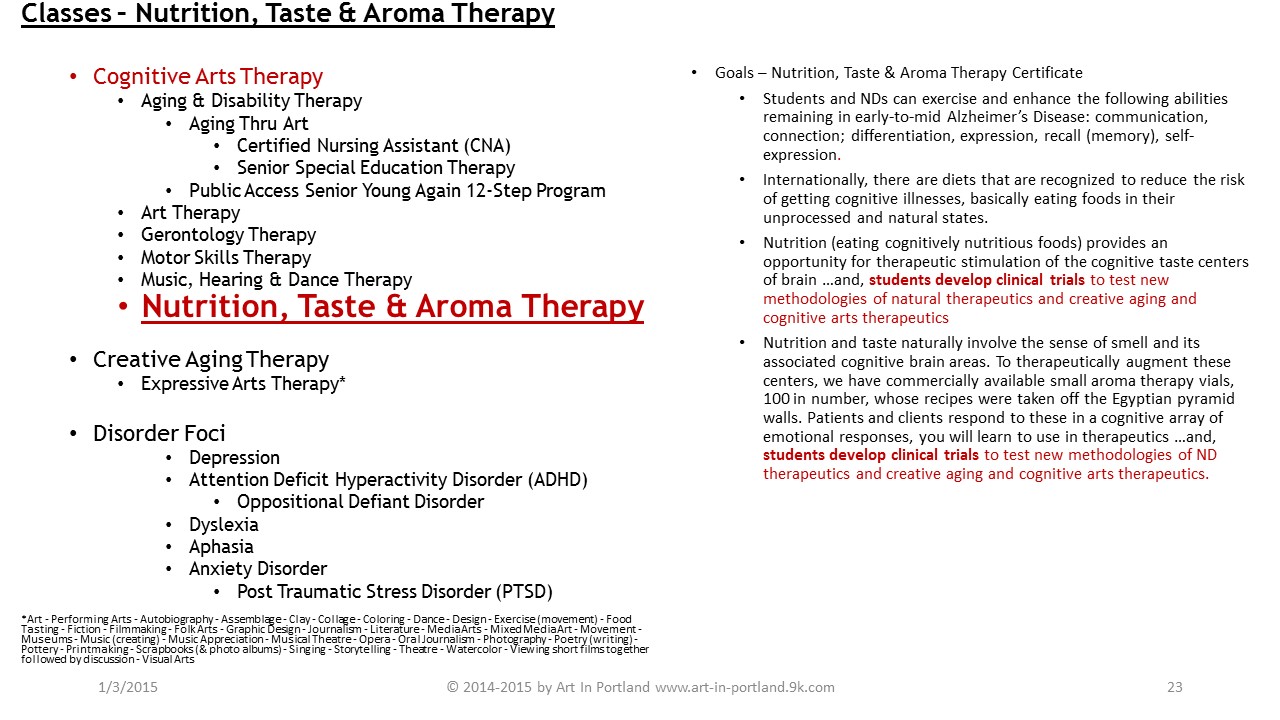 l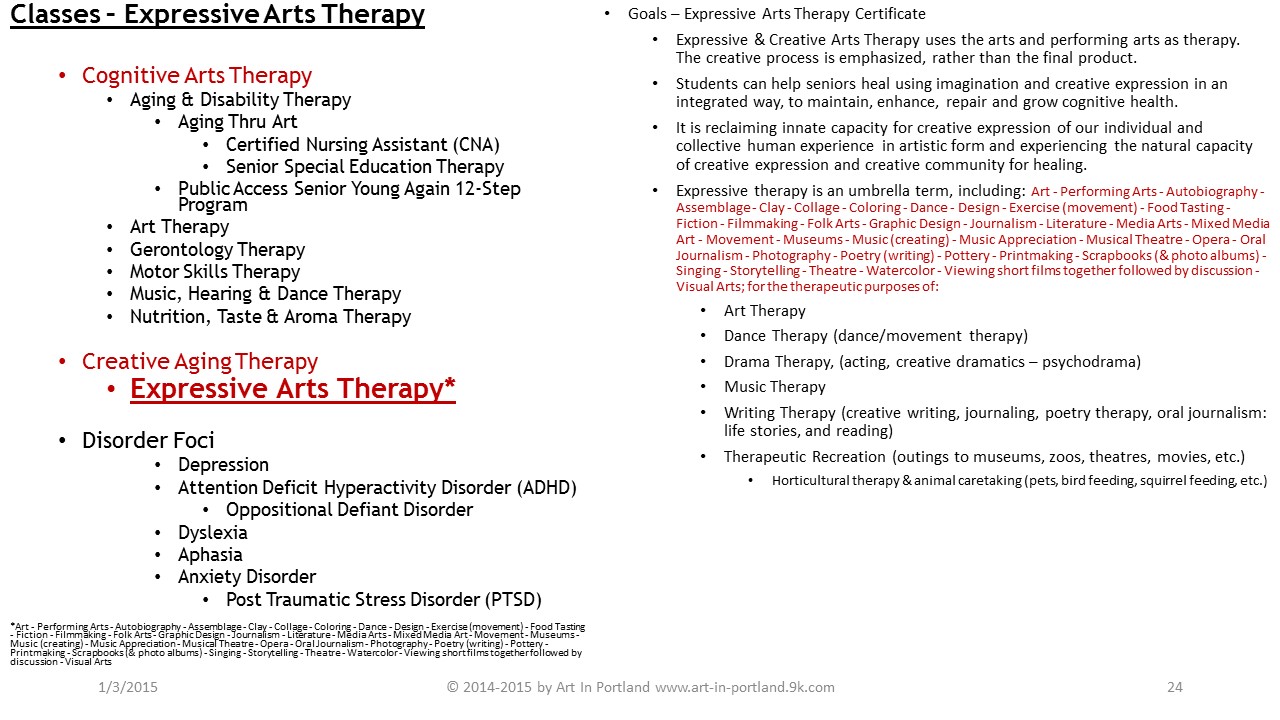 l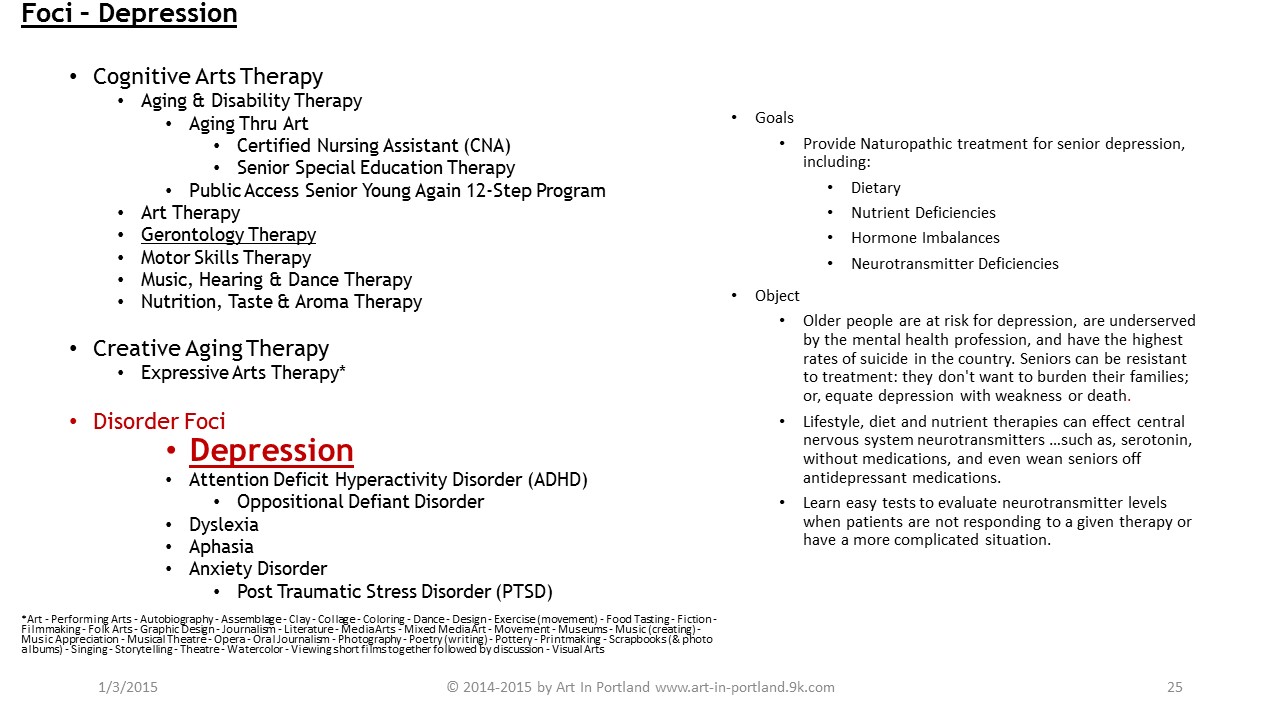 l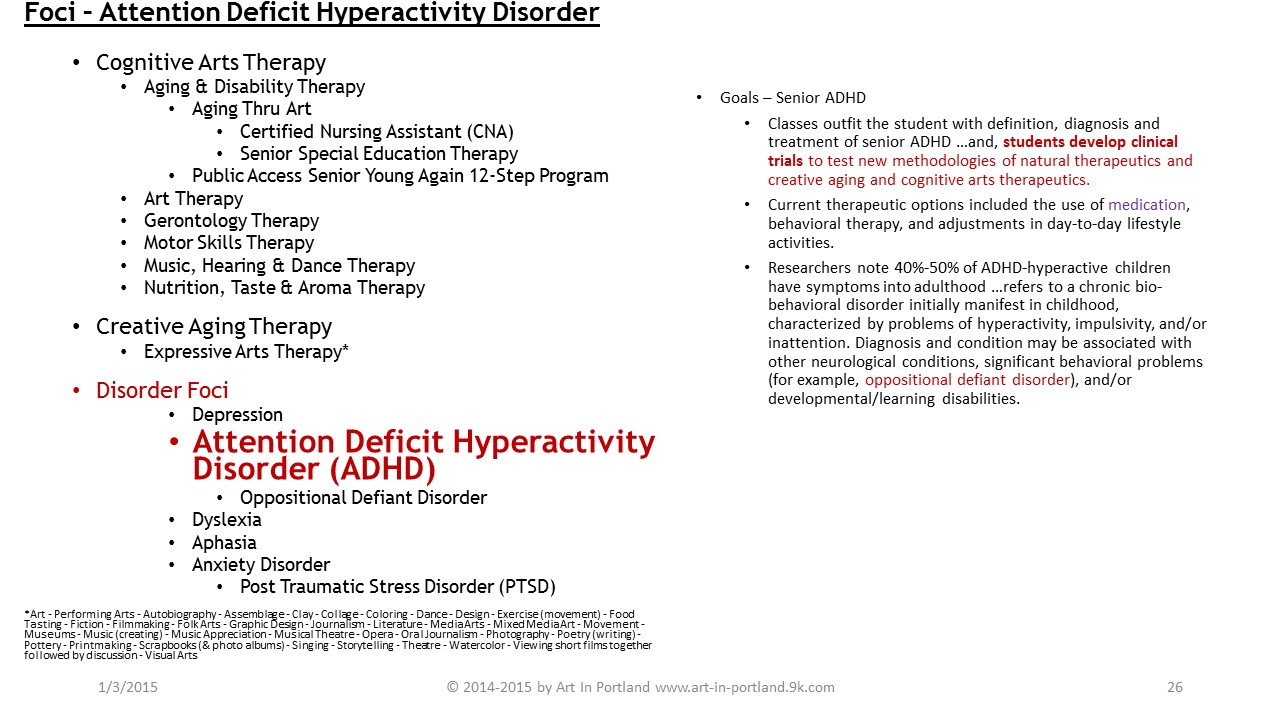 l
l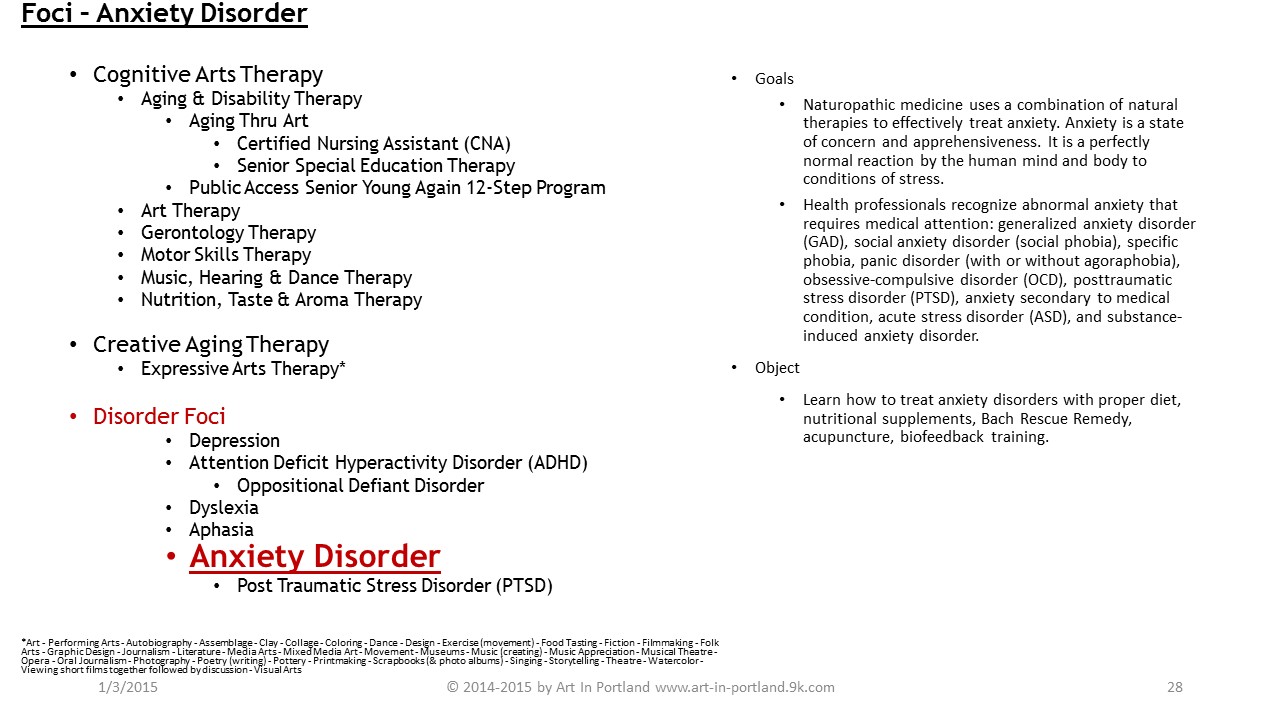 l